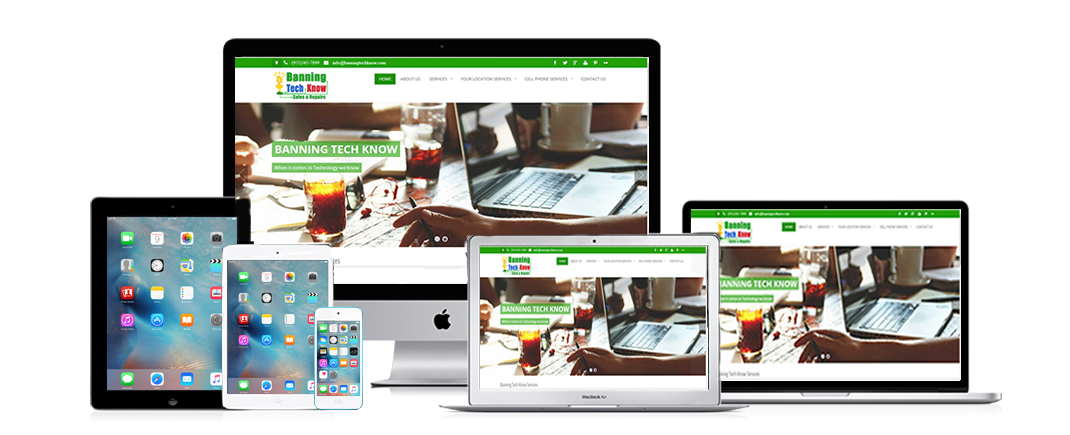 We are a professional tech company working with all your everyday tech devices.
We have technicians that specialize in different technologies including: Mobile Phones, Tablets, Computers, Laptops, Security Camera systems for home or office, We can also help you connect all this devices via wireless or hardwire.  We do wireless, hardwire installations and troubleshooting for your home or business.
Our Mobile Phones, and Tablets experts, can fix or sell you a phone or a plan for your mobile devices.
Our Computer Experts, can sell you a computer, fix your computer or help you configure your network so that your computers, printers, Security Camera system can communicate to each other from anywhere in the world with internet access.
We provide service at our store or at your location.  Whichever is more convenient for you.
Banning Tech Know Services
Computer and Network troubleshooting and repairs.
Digital Camera's installations and remote access configuration.
Upgrade your Analog cameras to Digital better resolution cameras.
Virus checks and removal security check on one computer or whole network organization.
Setup new computers and network.
Troubleshoot and fix existing wired network or wireless network.
Office Network Cable Installations
Provide Electronic Devices Repairs: For everyday people and big companies.
We repair phones for Apple, Samsung, LG, and many more companies
We repair tablets, chrome books, and laptop and computer towers.
We Activate cellular phones with prepaid companies
We provide onsite Tech Service for Wireless, WiFi Setup
And Many More…